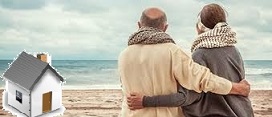 This article came to me in the nick of time that coincides two propositions on the ballot of midterm election regarding housing. I appreciate greatly Michael Longsdon @ elderfreedom.net sharing his experience transitioning his parents.
California Associate of Realtor is actively engaged in two statewide initiatives on the ballot. Proposition 5, Tax Fairness initiative to allow seniors, the disabled and victims of natural disaster to transfer some of their property tax basis, or savings, to the purchase of a new home. Proposition 10 would allow for the dramatic expansion of rent control by repealing the Costa-Hawkins Rental Housing Act, which C.A.R. strongly OPPOSES. Prop 5 and Prop 10 will have a huge impact on housing – and all of us – for years to come. C.A.R. is urging all California Realtors to vote Yes on Prop 5 and No on Prop 10, please join us and watch the video below for more info.
https://www.youtube.com/watch?v=gx6lP6KdJ58
How to Help a Senior Loved One Downsize Their Home
Convincing a senior loved one to move to a smaller place can be a challenge. While some seniors are enthusiastic about the idea of simplifying their life and moving somewhere new, others are scared of leaving behind a beloved home. However, helping an older adult downsize is often one of the best things you can do to ensure a happy, safe, and comfortable retirement for them. In this article, we will go over the main steps involved in doing this.
Having the Conversation
If your senior loved one is still reluctant, make sure you get everyone on the same page before starting the process. Everything is likely to be a lot harder if they aren't fully convinced, so take the time to have an honest discussion about why you feel the move would benefit them. Time has an excellent article detailing how to go about this conversation.
Finding the Right Home
Next, you need to actually find the new home. Ideally, you will be looking for a few — if not all — of the following criteria:
Able to comfortably fit one or two people without too much excess space
Low-maintenance
Single-story
Well-lit
Safe flooring: no thick carpet, stone, or high transitions between rooms
Near friends, family, or community where they can make new friends
Close to or easily reached by facilities like a pharmacy, grocery store, and doctor's office
Start by doing some online research to get an understanding of the prices for homes in the right size and area. For example, according to Redfin, homes in Mill Valley, California, have sold for an average price of $1.55 million in the past month. Based on this information, you may have to look for homes in a cheaper area — or you could find that your budget allows for a place in a better neighborhood or with a bigger yard.
Getting Rid of Stuff
Moving somewhere smaller means bringing less stuff with you, which is one of the biggest drawbacks of downsizing for many seniors. If your loved one is having difficulty letting go of their possessions, you need to be compassionate but firm.
If you're helping a parent, start by taking responsibility for any of your old stuff that is in the house. Then, help them sort between things that need to be kept, donated, sold, thrown away, or gifted to family. For tips on how to make the process easier, check out this guide.
Facilitating the Move
Give yourself plenty of time for the decluttering and packing stages. Taking it slowly over several months is much preferable to rushing it all in a couple of weeks. If this is not an option for you, you will need to be extra organized. This last-minute packing checklist covers everything you need to think about during an emergency move.
If you can, take a few days off while moving. Even if you have hired a professional moving crew (which is a good idea), there should still be someone there to watch over the proceedings, make sure everything is going smoothly, and direct the movers if they have any questions.
Should I Hire Help?
Senior move managers are professionals who specialize in doing all of the above. They help with every step of the process, providing logistical, practical, and emotional support for seniors who are moving home. Whether or not to hire one mainly depends on your budget for the move, as well as how much time you are willing to dedicate to supporting your loved one.

This can be a difficult time for everyone involved, so remember to stay positive, patient, and proactive. Downsizing one's life can feel like a huge undertaking, but most people who go through with it experience a huge feeling of relief and freedom once the process is over. No matter how reluctant they are to begin the process, chances are they will be thanking you for your help in a few months, don't let the challenge get to you.