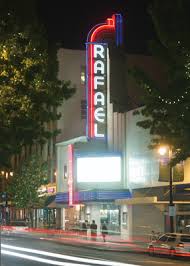 It's that time of the season again! The 41th MV Film Festival Opening Night was October 4, and it will run thru October 14. There is an impressive variety films in the line-up this year, showing at 4 local theaters: the SMITH RAFAEL FILM CENTER in San Rafael; CINÉARTS SEQUOIA in Mill Valley; and the LARK THEATER and CENTURY LARKSPUR, both in Larkspur. An independent film festival like this gives directors, writers, actors, and even just ordinary people the incredible opportunity to take on difficult subjects and put their point of view out to the public. I admire their courage to be vulnerable and share sometimes very intimate experiences and feelings of their lives. Bravo!
On a lighter note, here are three of my favorite Movie Quizzes from Marin Magazine to test your film IQ. They all have a Bay Area twist and history. Ready, set, go —
1. In Indiana Jones and the Last Crusade, what Marin locale was used as a stand-in for the German countryside?
A.Mount Tamalpais State Park
B.Samuel P. Taylor Park
C.Muir Woods
D.Stinson Beach
2. The George Lucas film American Graffiti has a number of scenes shot at the original Mel's Diner on Van Ness Avenue in SF. When did that diner first open?
A.1947
B.1955
C.1968
D.1972
3. Which James Bond film famously ends with a battle on the Golden Gate Bridge?
A.A View to a Kill (1985)
B.Thunderball (1965)
C.Live and Let Die (1973)
D.GoldenEye (1995)
Let me know how you did. I have answer to these questions, contact me at 415-686-2304 or [email protected] Photo is provided by MVFF site.